Tourism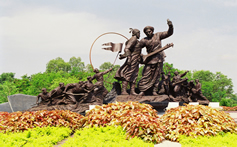 Bhakti shakti :
The great Saint TukaramMaharaj was born at village Dehu which is situated in vicinity of Pimpri Chinchwad Municipal Corporation. The great saint had taken heavenly abode 350 years ago."Dharkari and Warkari" The meeting of two great architects of Maharashtra indicates he unique presentation of strength, unity and spiritualism and such this project is named "Bhakti Shakti" project which is unique in India. The entire complex is situated high hill rock just near Mumbai Pune National Highway in sector no. 23 of Nigdi, P.C.N.T.D.A. On this auspicious occasion. PCMC has Taken a great opportunity to install the group statue of Shivaji Maharaj, the great emperor of Maharashtra and the saint TukaramMaharaj along with. The entire complex of sculpture on the hill rock is planned with proposed beautiful landscaping and the same has become the most acknowledged landmark for Pimpri Chinchwad Municipal Corporation.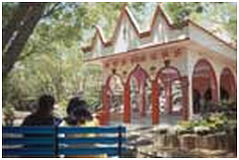 Durgadevi Hill Park :
Durgadevi park is a prestigious aspects of this corporation. over 1,60000 trees have been planted on an area of 75 Hector. Plants such as rain tree. Pelthohorum, Ficus, NeemGlyricidia, Suru, Sisoo, Kasid, Subabul etc. have been planted.Lawn on over 3 acres of land. has been maintained for recreation purposes.Recently 59,805 trees have been planted on 92 Hector of land nearly This park Waterfall and floating fountain add to the natural beauty of this hill station.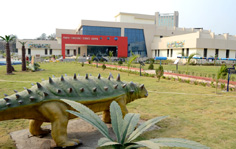 Pimpri Chinchwad Science Centre :
The Pimpri Chinchwad Science Centre has been set up by National Council of Science Museums, an autonomous society under the Ministry of Culture, Government of India with active support of the Pimpri Chinchwad Municipal Corporation, which is one of the richest municipal corporations in India. The Centre, through its interactive science exhibitions and non-formal science education programmes is expected to cater to the people of the region.

The Government of India and Pimpri Chinchwad Municipal Corporation equally shered the capital cast of Rs.850 lakhs. The Science Centre having a built-up area of approx 4000 sq. meters houses three exhibition halls, a temporary exhibition hall, an inflatable dome planetarium, science demo station area, activity corner, an air-conditioned auditorium,3D science show facility, a library cum conference hall, a small work shop for maintenance and development of exhibits and other public facilities surrounded by a large science park.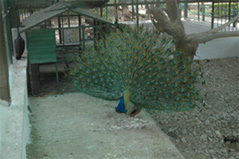 Nisargakavi Bahinabai Chaudhary zoo :
Bahinabai Choudhary Pranisangrahalay, previously known as Snake Park & Aviary, is a Small Zoo established by Pimpri Chinchwad Municipal Corporation
recognized by the Central Zoo Authority. It was inaugurated on 30th December 1989 and officially declared open to public on 1st Jan.1990. This zoo has witnessed continuously increasing visitorship since then.
The zoo remains closed for visitors on every Tuesday. It is open to the public from 11:00 a.m. to 1:30 p.m. and 3:00 p.m. to 6:00 p.m. It is extended during summer
vacation from 10:30 am to 7.00 pm.
Entry Fee Adults : Rs. 2:00 (Two Rupees).
Children : Re. 1:00 (One Rupee).